MINING · A HUMAN ENDEAVOUR
FILL YOUR LEADERSHIP GAP WITH ELITE MINING PROFESSIONALS
WELCOME TO STRATUM
Stratum is a global mining executive search, recruitment and management consulting firm. We help you hire high-performing leaders across corporate, business-critical, technical, and commercial leadership roles at Site and Head Office.
WHY STRATUM
WE SPECIALIZE IN THE HUMAN ASPECT OF MINING
Mining materially contributes to the now and future of everyone's world. Our mission is to ensure the best people carry this responsibility. It's why we've dedicated more than 10,000 hours to proactively sourcing and cultivating over 7,000 of the best in the business.
We farm. We don't fish.
How we're different
We're your partner. Not just another recruitment company
Most traditional mining recruitment firms employ reactive "success-based" recruiting methods. Our research indicates that up to 80% of company hires are based on subjectively assessing people's skills, career experience, and a CV alone. Yet 80% leave their jobs due to culture fit.
We're different. We help you build a strategic approach to hiring the right fit people. Because we've proactively interviewed and assessed thousands of leaders, we can focus on achieving culture fit.
WHAT WE DO
WHAT YOU CAN EXPECT WHEN YOU PARTNER WITH STRATUM
EXECUTIVE SEARCH & MINING RECRUITMENT – We match top-tier talent to your business-critical leadership roles at HQ, operational sites, development projects or exploration targets globally.
ADVISORY/MANAGEMENT CONSULTING – We've performed management consulting and advisory assignments in more than 30 countries. When you work with Stratum, our insight into people and market trends can help you cut costs, access new markets, and reduce risks.
DUE DILIGENCE/REFERENCING – Stratum's worked with the world's leading mining Private Equity Firms to provide due diligence on mining deals ranging from $10 million to more than $1 billion, for companies ranging from micro-cap to major miners and PE funds/Family Offices.
ASSESSMENT & CULTURAL FIT – We use TalentAssay™, our award-winning, scientific recruitment model and technology platform, to identify people who fit your company. It's why we have a 96% Y1 retention rate.
SUCCESSION PLANNING – We build long-term relationships with the top 20% of operational, project, exploration and corporate leaders. Imagine how this knowledge can help your organisation?
Where we work
A global presence
Over the last decade, we've placed more than 300 high-performing mining leaders across corporate and technical disciplines at Site and Head Office in just over 60 countries. If you think there isn't a candidate for your market, we'll find them.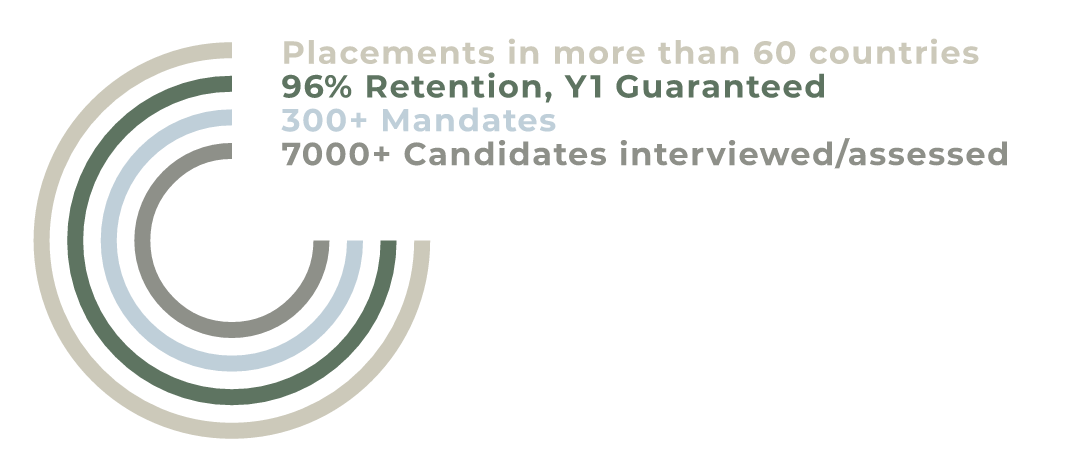 TESTIMONIALS
DON'T TAKE OUR WORD FOR IT
Ian Pearce

Former Ceo Xstrata Nickel

Chairman Nevsun And New Gold

I credit cultural fit as a key contributor to the success we achieved at Xstrata. Stratum proactively positioned an up-and-coming project executive into another organisation to influence and impact a $5bn project. Several years on, this hire not only turned out to be a resounding success but is now being primed to become the VP Projects of this multibillion-dollar successful organisation.

Jeff Quartermaine

Ceo

Perseus Mining

When you're running several complex operations in Africa, it's critical you have an onsite leadership team you can depend on. Stratum International was able to provide an excellent short-term solution in the form of an interim EGM, while they identified a shortlist of candidates who could perform the role permanently.

Anton Neser

Former Head Of Hr: Global Mining

Trafigura

Stratum has been able to find candidates for a market where we thought none exists. Their knowledge of the mining industry and methods of sourcing is highly recommended, and anyone looking for good staff sourced in a professional and time-efficient way should give Will a call.

Jan Honeyman

Human Resources Director

First Quantum Minerals Ltd

We've worked with Stratum for the better part of a decade. With the challenging locations and FQM's hands-on management style, this is usually a tall order. The Stratum team makes a big effort to ensure they understand our unique operating style to match potential candidates. Their customer service, follow up and follow through is exceptional throughout.
LATEST RESEARCH
MINING THE DIGITAL REVOLUTION
How are technology and the digital revolution impacting the mining industry? We spoke with over 249 mining professionals from across the globe to gain insight into how the revolution is changing their industry and jobs. Be the first to read our new research report.